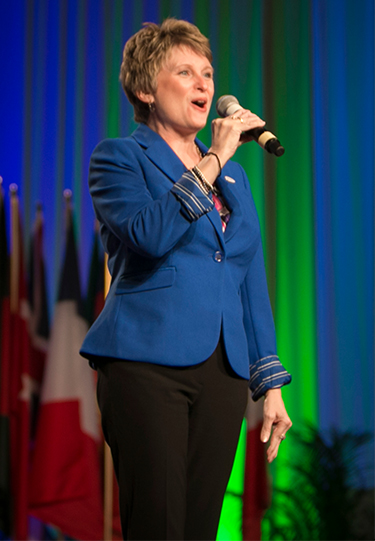 I'm Julé Colvin
My passion for helping leaders grow to better impact the world for good led me to become a certified coach, trainer and speaker. I have spent 30 years in the business world helping nonprofit and for-profit businesses grow principally through coaching, training, strategic planning, leadership development and winning grants.  I have helped raise millions of dollars for charities throughout my career and have helped businesses of all sizes to flourish and reach new levels of growth.  My greatest successes have included helping to re-develop an inner city neighborhood through the development of affordable housing and high-impact programming, pulling together people and resources to address major social problems and growing my own business to a high level of success in a new market.  I especially enjoy helping people develop their leadership abilities and business acumen.  My goal is to help my clients focus, balance and achieve maximum impact. 
I hold a degree (Summa Cum Laude, Phi Beta Kappa Society) from Kent State University in Ohio.  I am a business owner, wife, mother, grandmother, and volunteer.  I lead such a fulfilled life and love helping others to think big and go for it.  I am known for my enthusiasm, integrity, passion to help others grow and my attention to detail.  In my precious free time, you can find me riding my bike, volunteering or expressing my artistic side through interior decorating.  I have been married for 24 years, have two children and two grandchildren.  
Services
Coaching Individuals, NonProfit
and For-Profit Leaders
I am a certified coach through the John Maxwell Team.  I lead my clients 

through a powerful coaching process that helps them to gain greater focus on what is important in their individual lives and in their organizations and businesses.  This improved focus then leads clients to improved personal and business balance, leading ultimately to greater impact, increase and fulfillment.

For my nonprofit and for-profit business leaders I also provide experienced, practical, and transformational business development insight and strategies.  

 I offer ½ and full-day VIP days to help individuals and leaders gain even greater focus and impact for their personal and professional lives.
Training
I develop and lead powerful Mastermind groups made up of leaders with a desire to develop a big vision, grow and learn from others through the process.

I develop customized leadership trainings for nonprofits and businesses aimed at helping develop teams, create a leadership culture and launch staff and leaders to maximum impact.  

I provide board trainings for nonprofits that are designed to build teams, teach critical legal and fiduciary responsibilities and motivate boards to reach their full individual and group potential. 
Strategic Planning / Business Development
I facilitate groups through a strategic planning process that culminates in a strong, big vision strategic plan with associated practical steps to achieve the vision.  My team then produces the strategic plan in written format for your team.
Mastermind Groups
Board Trainings
Strategic Planning
Business Development
---
Certified Coaching
Powerful Coaching Process
Experience Insight
Greater Focus & Impact
Contact
To request a free consultation with Julé, email jule@grantpathways.com 
or use the contact form below to send a message
"Jule's mastermind group is an excellent way for you to exponentially improve your results, whether in .business or nonprofit environment.  You'll be equipped and motivated to make changes that will positively impact those around you."
"WOW! Last night was GREAT; this is just what the ministry has desperately needed! The brainstorming and working on clarifying our mission, vision and goals is vital to the future of this ministry and what God desires to do. You did an excellent job in leading us; it was fun, energetic and very effective (the time flew by!!). I am so thankful and excited and just can't thank you enough! You are a special gift from God to us and He is going to use you to make such a difference in the future of this ministry for His honor and glory! I am really looking forward to meeting again as God reveals His plans and the goals He is urging us to work toward."
"This mastermind group helped me to "jumpstart" back into my professional development.  I plan to continue attending seminars to lift the "lid" and get to the next level.  Julé was a great leader and presenter."